Master
Media Component
Heading
Course Information
Content
This two-day intensive course is aimed at training busy healthcare professionals, researchers, and students on knowledge and skills necessary to understand important concepts in health research, and be able to conduct simple analysis independently using basic software.
The original price of the course is $750 but is currently being offered at a discounted price of $500.
Prerequisites: None
Ways to Attend:
Due to the current situation, our courses will be only offered through ZOOM video conferencing. Once registration and payment are received, participants will receive a ZOOM meeting invitation to join the scheduled class.
August Session: Friday: Aug. 6, 2021 from 9 a.m. - 1 p.m. CST and Saturday: Aug. 7, 2021 from 9 a.m. - 5 p.m. CST. Register now.
October Session: Friday: Oct. 22, 2021 from 9 a.m. - 1 p.m. CST and Saturday: Oct. 23, 2021 from 9 a.m. - 5 p.m. CST. Register now.
Heading
Course Description
Content
This course will focus on providing hands-on competency with respect to the most common introductory statistical procedures used in clinical research. At the end of the course, participants will be able to perform independently and interpret results of the following statistical procedures using SAS software:
Two sample t-test
Paired sample t-test
One sample t-test
Chi-squared test
Fisher's exact test
McNemar's test
Correlation
Simple Linear Regression
One-way ANOVA
Heading
Course Director and Instructor
Terms

Hamisu Salihu, M.D., Ph.D.
Item Definition
Dr. Salihu is a professor and vice-chair (Research) at Baylor College of Medicine. He has published hundreds of peer-reviewed journal articles, has been and is the principal investigator of several federally funded grants (including the NIH, HRSA, and the AHRQ). He is also a recognized world expert in perinatal epidemiology, and has been recognized by the New York Times (2008) and Time Magazine (2013).
Media Component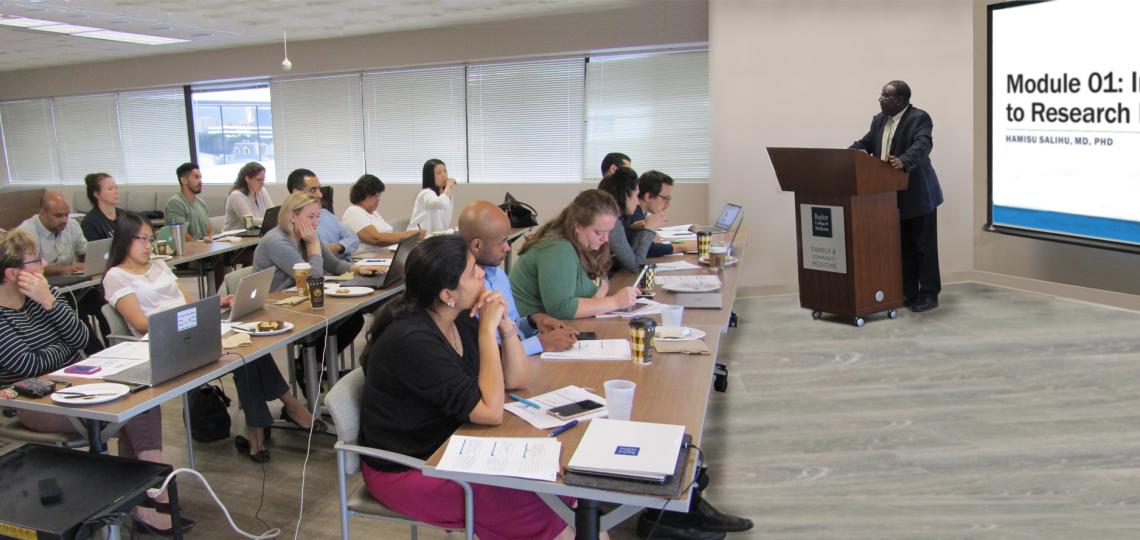 Content
Hamisu Salihu, M.D., Ph.D., leads CMR.
Heading
Quotes From Former Beginner's Course Attendees
Content
"After taking Dr. Salihu's Beginner's Course, a question on paired sample t-test appeared on my surgery board exams, and I was smiling because I knew it and I even did some SAS programming on it in Dr. Salihu's class."
"I'll make sure I come to every one of your different courses."-
"I am faculty, and I strongly believe that all residents and fellows need to take this course . It is so empowering!"
"Even if you are not going to run the data yourself, the mere fact that you can establish a meaningful conversation with your statistician after taking this course is priceless."
"I am a medical student and just took my Step 2. This course is so relevant to us. I was asked a question on the Step 2 exams about "Ecological Fallacy," and there it is on one of Dr. Salihu's slides! Can you imagine?"
"It is so unbelievable that such an excellent course is available and only few people know about it."
"Dr. Salihu, you need to teach this course on a weekly and NOT monthly basis!"
"Thanks to you Dr. Salihu. Great job. Good, down-to-earth explanations and good basic 'digested' level examples...wished there were more and more time, but I understand how it goes... BAYLOR IS LUCKY TO HAVE YOU."