Master
Media Component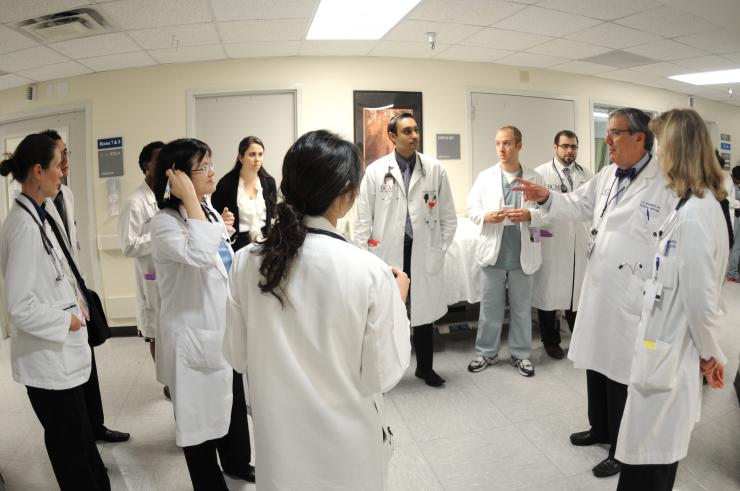 Content
Dermatology residents at Baylor College of Medicine consider the lecture and conference schedule to be one of the strengths of the three-year program.
Every Monday morning is dedicated to dermatopathology unidentified slides led by the dermatopathology fellow at a 10 headed microscope. 

The Tuesday and Wednesday morning lecture series is divided monthly between the faculty of Baylor College of Medicine and the McGovern Medical School at the University of Texas Health Science Center at Houston.  
The lecture series is attended by the residents of both schools, who benefit greatly from the wider range of expertise provided by the two shared faculties. Monthly pediatric dermatology conferences are also held on Tuesdays where the dermatology residents present interesting cases seen on their pediatric dermatology rotation.

One Wednesday per month is dedicated to a dermatopathology conference led by Clay Cockerell, MD, who flies in from Dallas, to discuss fifteen unknown dermatopathology cases with the residents. This lecture is also attended by the residents of both schools. In addition, one Wednesday per month is dedicated to a resident-prepared basic science lecture.

The highlight of the week is Grand Rounds, which is held Thursday morning at the Michael E. DeBakey Veteran Affairs Medical Center.  Fascinating patient cases provided both by dermatologists in the community and by the Baylor-affiliated hospitals are presented and discussed among the community dermatologists, BCM and McGovern Medical School faculty and residents. Grand Rounds is followed by textbook conference, which is led by a faculty member. Chosen texts vary from major references such as Bolognia, Fitzpatrick, and Andrews, to specialized references such as Fisher's Contact Dermatitis and Bennett's Fundamentals of Cutaneous Surgery. The morning concludes with a resident run conference with subjects and presenters selected by the residents. Journal club is also held on Thursdays during which residents and faculty discuss articles mainly from the Journal of the American Academy of Dermatology and the Archives of Dermatology.
Friday morning conference focuses on dermatopathology, with a discussion based on Rapini's textbook and correlating glass slides.
In addition to the regular weekly conferences, residents attend monthly meetings of the Houston Dermatologic Society, during which interesting patients are formally presented. In the past, the Society meeting has also hosted a variety of world-renowned speakers. The Texas Dermatological Society meets semiannually, and BCM residents attend these meetings as well.  The annual John Knox Conference features outstanding speakers from throughout the country and is held every fall in Houston or Galveston. The American Academy of Dermatology's annual meeting is attended by all residents. Residents who have had research accepted to additional meetings frequently attend these as well.
Heading
Dermatology Grand Rounds Instructions & Map
Content
Dermatology Grand Rounds attendees, please click here for more information.