Master
Content
A gala event entitled "A Celebration of Art & Creativity" benefiting the Kelsey-Seybold Foundation was held Feb. 15, 1996 at Houston's Museum of Health and Medical Science. The event feature two interesting people: at left is Hugh R. Butt, M.D., Professor Emeritus of the Mayo Medical School, a sculptor who hasn't let the passage of time slow him down, and the Huffington Center on Aging's benefactor, Ambassador Roy M. Huffington, a Houston businessman who is also a role model for all people, not just older ones, inasmuch as he is in training and may run in the Senior Olympics.
A self-taught artist, Dr. Butt's work in wire and metal has been exhibited nationally and expresses his interest and knowledge in the human form and the artist's belief that art should make one feel good, even laugh. We agree that his Calder/Matisse-like work makes one stop and ponder what this octogenarian artist's work means to us and even chuckle about the humorous images that the work conjures up in our minds. Dr. Butt, it works.
The event coordinator, Ms. Terry Litchfield, chose to place at the end of the printed program a pertinent quote from someone intimately knowledgeable about medicine:
"For where there is the love of man, there is also love of the Art." --Hippocrates.
Since this piece will be read by our fellow cybervillagers throughout the world, a quote from someone who lived from 1749-1832 that was used in an Arts and Medicine Symposium I helped coordinate at Baylor College of Medicine in 1978 may also be appropriate:
"Science and Art belong to the whole world, and the barriers of nationality vanish before them." --Johann Wolfgang von Goethe.
Heading
Anne Eldrege Harris
Content
Born in Pensacola, Florida in 1918, Anne's childhood was spent in Washington, D.C., and Ga. before moving to New Orleans in her teens. At the University of Alabama she met her brilliant engineer husband. They were married in her sophomore year when she was eighteen, and set off on an adventuresome life in several southern states while her husband designed bridges. They places they lived included Connecticut, Venezuela, Maryland, and New Orleans, where for 25 years he was on the Tulane faculty. The couple was always interested in the forefront of science and technology, as well as philosophy, art, and creativity, which she has found again on the internet.
Widowed in 1982, Anne moved to a retirement home in Delaware to be near NYC, Philadelphia, and Washington. Now a recluse in failing health, she finds my "art studio in a box" the perfect answer for energy-sparing creativity, and Art on the Net a delightful connection to other artists.
After sixty years of working in traditional art mediums, Anne discovered digital art in mid 1995. With Fauve-Matisse software, using the mouse as a brush, she experiments daily and the possibilities blow her mind. The transition to computer generated art demands even greater emphasis on drawing. She begins with an idea drawn in her regular sketchbook, transfer it into the computer via Sketcher software to correct the proportions, etc., then into Fauve-Matisse where she paints and manipulates it with filters and enhancers.
Content
One of four children, Joan Rotenberg was born Sept. 25, 1920 in Zwickau, Saxony, Germany, a small town near Leipzig. Her father was a successful business man, owning a laundromat, a number of garages and gasoline stations, and even a truck weighing station.
Joan and her sister and brothers would probably have enjoyed their lives in Zwickau and perhaps be there today had not the increased level of antisemitism that preceded the infamous "Kristallnacht" and the prospects of war led her parents to make a bold move to Palestine when Joan was just 15 years old. Leaving Germany no doubt saved Joan's life and left her and her art for us to enjoy today.
What was life like for a teenager at the Kibbutzim Jagur and Alonim near Haifa in 1935? "Primitive, but not too bad - three to a tent, half day working, half day of school plus learning Hebrew, enduring the nightly exchange of gunfire with their neighbors occupying the high ground above the wadi and then dancing into the night with her fellow Youth Aliah counterparts from Germany" was the answer Mrs. Katzenstein gave from her present day home in New Port Richey, Fla. She remembers those days as vividly today as she does the intricate steps to her line dancing class that she attends three times weekly.
She recalled that she said she always had fresh flowers adorning the pole that held her tent up and she always had a reproduction of van Gogh around as well. But she still was a long way from becoming the artist she is today. After eight years of Kibbutz life, Joan went to the port city of Haifa to buy a new pair of shoes. There she met and married Eric Katzenstein, another German emigre from Frankfurt. In 1947, the instability of Middle East geopolitics led Joan and her husband to leave their new homeland in a converted troop ship for New York City where Eric's family had settled earlier.
In 1983, with family raised, this great grandmother could now pursue her art. She started taking lessons and paints for her pleasure. Some of the artists featured have been painting all their lives; some are even into computer art, but Mrs. Katzenstein is the prime example that it's never too late to begin.
Heading
Mary Ellen Shipnes
Media Component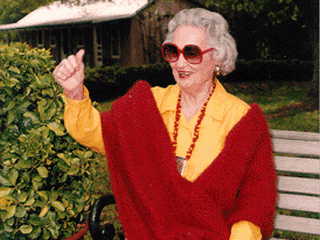 Content
In 1911, when the then Miss McNamee was 3 years old, her father built a summer home on a point overlooking the confluence of the Great Lakes just north of Traverse City, Mich.: this was Northport Point, and was to influence the future artist in many ways that we enjoy even today. Mary Ellen grew up in Indianapolis, Ind. in a very artistic home. Her father was an architect who always insisted on her learning fine sketching techniques; her mother was a ceramicist creating vases and beautiful objects to observe. In about 1925, Mary Ellen was admitted to the Boston School of Fine Arts and lived on the Fenway, from which she walked to school and still remembers those brisk winter days.
Back in Indianapolis, where young ladies of the day wore hats and gloves to the marketplace, one of her girlfriends introduced her to the college roommate "sweetheart" of Psi Upsilon, her fiancée's fraternity, and love led her ultimately to Houston, Texas in 1946, but not before she and Mr. Shipnes, who was an executive with Sears and Roebuck, sailed the Caribbean, adding even more scenes to those from Northport Point she would paint for countless persons to enjoy.
She recalls invitational showings of her work at the Worth Avenue Gallery in Palm Beach, Fla., and subsequently how people would write her and tell her where they had hung her paintings.
Mr. and Mrs. Shipnes raised a family in Houston in a new subdivision called West Oaks on San Felipe and Post Oak, which is where Houston's Galleria shopping center and Tanglewood residential areas are located.
But in those days, some of the then country lanes where crushed shell roads, and a long way from downtown. From her studio at her West Oaks home, Mary Ellen continued to produce wonderful bright paintings that always depict scenes full of color, flowers, houses, and which evoke happy feelings. The Shipneses also built a lovely country home in Brenham, Texas, where the rolling hills are covered with Texas bluebonnets each spring. Mrs. Shipnes lived there until her death; each summer she traveled to her childhood summer home in Michigan.
Heading
Connection to the HCOA
Media Component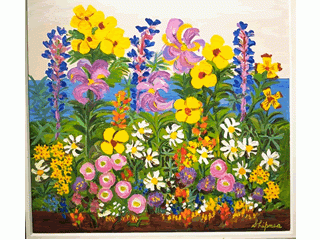 Content
So how the Huffington Center on Aging find out about this wonderful artist's works and about the very interesting life she led? Well, finally she lived long enough to need the skills of an interdisciplinary geriatrics team, Geriatric Medicine Associates, headed by HCOA director, Robert J. Luchi, M.D. In the course of Dr. Luchi and his team conducting a comprehensive geriatric examination, they learned about Mrs. Shipnes' artistic interests and how she still paints even with her macular degeneration.
Well, that's part of the Texas connection, but, as Paul Harvey says, "here's the rest of the story." Back in that West Oaks subdivision lived a Houston oilman, the future CIA Director, Ambassador to China, Vice President and President of the United States, George Herbert Walker Bush. Mr. and Mrs. Bush wanted a Texas scene to be in the Ambassador's residence in Beijing, so Mrs. Shipnes painted one. When the Bushes moved into the vice president's house in Washington, D.C., they wanted another Texas scene for that residence, and, again, Mrs. Shipnes painted one. The Bushes took that painting with them to the White House; today it hangs in their summer home in Kennebunkport, Maine. Next, of course, came the HCOA. When Dr. Luchi learned about this, he asked Dr. Bob Roush to contact Mrs. Shipnes, and she provided us with a contact sheet of some photographs of some of her work.
We also hope that you appreciate the fact that this lady painted all of her life. That's the important point. She maintained a lifelong love of art, even through the trauma of losing her husband of 63 years and subsequently losing her central vision due to the rapid onset of macular degeneration. Coupled with this she had some severe low-back pain due to osteoporosis. She learned how to continue to enjoy life and paint, and that's the lesson those of us learn from our "teachers" who've already "traveled" the road of life a lot farther than most. She exemplified what we at the Huffington Center on Aging believe is so wonderful about the painting Francisco de Goya painted at age 80: crippled with kyphosis and arthritis he entitled this work, "Aun Aprendo," which translates to "I am still learning." Mrs. Shipnes learned all of her long life; hopefully, all of us will, too.
Heading
In Memoriam 1908 - 2001
Content
Mrs. Shipnes' many friends and admirers of her wonderful art, which brought great pleasure to those fortunate to view her work, regret her death on May 9, 2001. She lived a long, good life, bringing joy to all who knew her.
Even though the artist is gone, her works live on, still delighting the eye and the spirit. Some of Mrs. Shipnes' bright, cheery pieces may be seen below.