Master
Heading
Who Participates in the Theater Forum Project?
Media Component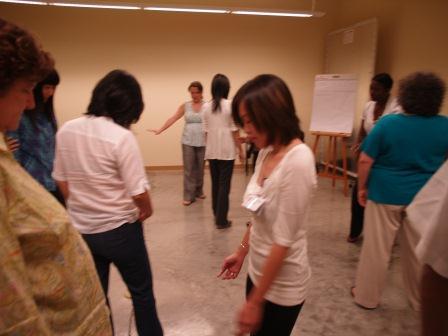 Content
The Forum Theater Project involves community health workers, physician assistants, health educators from the Harris Health System, community artists, community members, and staff in the Office of Outreach and Health Disparities in the Dan L Duncan Comprehensive Cancer Center at Baylor College of Medicine in Houston.
View the conceptual model for the project as a flow chart.
To learn more about the theoretical framework used in the Forum Theater Project, read:
Boal A. Games for Actors and Non-Actors. 2nd ed. New York, NY: Routledge; 1992.
Boal A. The Rainbow of Desire: The Boal Method of Theatre and Therapy. 2nd ed. New York, NY: Routledge; 1995.
Boal A. Theatre of the Oppressed. London, England: Pluto Press; 2000.
Rohd M. Theatre for Community, Conflict and Dialogue: The Hope Is Vital Training Manual. Portsmouth, NH: Heinemann; 1998.
Content
Training courses
Led by OOHD staff, health educators, and consultants—with contributions from physician assistant faculty and students—a curriculum covering current cancer-screening recommendations, cancer risk factors, health-care barriers, and availability of resources was designed for lay participants.
The training process also involved teaching key community health workers, health educators, physician assistant students, and community members how to use the Forum Theater method within each target community. This 7-week training course covered such topics as evidence-based health content on colorectal and cervical cancer and specific Forum Theater techniques, such as trust exercises, improvisation, scene building and flow, and encouraging audience participation.
Content
The lesson plans for the training courses were designed by John Sullivan, a consultant who based them on the book Theatre for Community, Conflict and Dialogue: The Hope Is Vital Training Manual by Michael Rohd (Heinemann Drama, Portsmouth, NH, 1998).
The CPRIT Forum Theater Project Facilitator Training program was an abbreviated and highly focused introduction to the form. In seven lessons, participants were familiarized with the basic ideas needed to apply this interactive theater form to cancer prevention education. The 7-week course was followed by a performance by participants, allowing them to experience Forum Theater in the context of health education. Following are brief descriptions of each lesson that link to PDF versions of the lesson plans.
Lesson 1: Participants are introduced to Forum Theater as a technique for addressing and solving community health issues.
Lesson 2: Participants learn about the techniques used to create static images and about how improvisation can be used to resolve decisional conflicts related to colorectal and cervical cancer screening.
Lesson 3: Participants learn about sensory development and about how to build core conflict images related to colorectal and cervical cancer screening.
Lesson 4: Participants take part in story circles to learn about each other's personal or workplace experiences with colorectal and cervical cancer prevention and screening.
Lesson 5: Participants develop story lines for performances, create core conflict images, and rehearse the scenes they have developed about colorectal and cervical cancer screening.
Lesson 6: Participants perform the two scenes about colorectal and cervical cancer screening for an audience of health-care professionals and elicit their feedback to enhance story lines for community performances.
Lesson 7: Participants review the key messages for the story lines, discuss satisfaction with the pilot performance, explore prospects of working with community groups to create a culturally fluent health-promotion performance, and analyze their own roles in community health using drama-based facilitation techniques.
Heading
Rehearsals: Community Engagement
Content
Thirteen rehearsals are scheduled for each target community, with two set aside for content education. Physician assistant students are actively involved when scenes depicting doctor-patient interactions are rehearsed. They participate in at least one rehearsal before the play is performed for the community to provide feedback about the content. Observation, feedback, and participation in theater presentations enable lay participants to address barriers and misunderstandings related to the health topics and any cultural and language issues.
Heading
Audience Feedback: The Forum Theater Survey
Content
After each performance, participants and audience members are invited to complete a short survey designed to elicit their knowledge and attitudes about colorectal and cervical cancer and their satisfaction with the play. Following are some positive comments collected with the survey after different performances:
"FT creates an innovative way to express and share health messages."
"[The] FT method allows us [community health workers] to connect with people to make learning easier."
"Training offers us [community health workers] the skills we need to implement FT in the community and train members of an acting troupe."
"Although it is a lot of work, FT promotes a collaborative approach for community-based outreach and education."
"The community can participate directly in solving cancer barriers and myths."
View the survey.