Master
Content
All license payments are collected by Baylor Licensing Group. Payments received are distributed according to the Policy on Patents & Other Intellectual Property. The distribution formula work as follows:
Fifteen percent of gross license income is deducted to support BLG's operations. Any direct expenses, such as patent costs that are not reimbursed by the licensees, are also deducted to yield net income.
Heading
Net Income Distribution
Media Component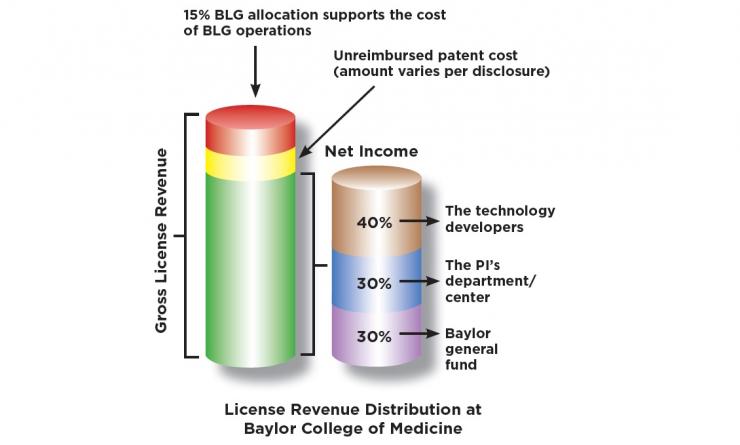 Content
If the technology is 100% funded by federal or Baylor funding, the Net Income is then distributed as follows (as shown in the figure):
BLG: 15 percent and Patent costs, if any.
Net Income* is distributed as follows:
Developers - 40 percent Distributed as per the percentages listed on the disclosure form.
Department - 30 percent One or more departments represented by the developers.
BCM General Fund - 30 percent
Heading
Funding from Non-Profit Foundation
Content
Net Income may be different in circumstances where the invention resulted from research funded by a non-profit foundation. Each foundation has different policies which we negotiate to try to minimize the income-sharing impact on the developers. This is also the case with joint disclosures with other academic institutions discussed above.
Heading
Collaboration with Another Institution
Content
If the technology results from a collaboration with another academic institution, such that the technology is co-owned with that institution, the license revenue will usually be shared with the other collaborating institution, and BLG will negotiate a revenue sharing arrangement with the other institution, normally in the form of an inter-institutional agreement (IIA). The same principle applies if the technology is owned by multiple (more than two) academic institutions – typically the institution with the largest percentage ownership of the technology will take the lead commercialization role.
Content
The BLG may, at times, accept equity in lieu of cash as part of the license fee. Generally, this equity is distributed in the same fashion as if it were cash license revenue, but Section V of the Baylor Policy on Patents and Other Intellectual Property (Baylor login required) does allow for alternative distribution mechanisms in certain cases, at the discretion of the College.
Heading
Department Contacts
Content
Each project manager is responsible for a portfolio of technologies. The project managers are responsible for different departments. Please call (713) 798-6821 to reach one of them. Faculty with general questions may always speak with any of the project managers if the one responsible for their department is temporarily unavailable.
Heading
Guide to Commercialization
Content
The Guide to Commercialization is designed to educate faculty regarding various aspects of commercialization including the different types of relationships between academia and industry, disclosure submission and management, marketing, licensing and patent strategy.